Everything you Need to Know about Ukash Bingo Sites
Do you want to Play bingo with Ukash, but you're unsure which operators accept the payment method? Maybe you're overwhelmed with the sheer volume of sites that accept the banking option and don't know where you will get the best deal. Whatever your reason, rest assured you have come to the right place. We've identified the operators that accept this safe and secure prepaid e-money service, and thoroughly tested them to find those that offer the best bonuses and the best features. Whether you want to start playing straight away, or whether you want to know more about using the payment method at online bingo sites, we have it all here.
Get a massive exclusive bonus at 888 Ladies – the Number 1 Ukash bingo site!
Recommended Bingo Operators that Accept This Payment Method
To find the best bingo sites that accept Ukash, logically, we first of all filtered those sites that accept the payment method from those that don't. Then, we reduced the list even further by picking out the operators that allow low minimum deposit amounts and fee free transactions. Next, we compared the bonuses, promotions and offers available to players. Finally, we played the games to make sure the sites were fun and entertaining. After thoroughly researching numerous sites, these were the clear winners.
Top 3 Ukash Bingo Sites
888ladies £50 Sign-Up Bonus

Fee free deposits with Ukash

An inviting welcome bonus, no code required

Play Now
costa £50 New Player Bonus

Minimum deposit of just £5 accepted using Ukash

Big reload bonuses on all deposits

Play Now
Read the sites' T&C's by clicking "Play Now".
How Does it Work?
Ukash allows payments to be made online without the need to enter credit card or banking details. This makes it an incredibly safe alternative way to pay for goods and services online. It is a great option for people who do not have a debit or credit card, or who simply do not want to use their card to pay online. In order to use this banking method, you first need to purchase a voucher. These are sold in thousands of locations throughout the UK, including supermarkets, newsagents and petrol stations. There's a handy store locator on the official website, if you need any help finding an outlet. You hand over your cash, and in return, you receive a receipt which holds a 19 digit PIN. It is this number you use to make a payment.

Using this banking method to play online bingo could not be more straightforward. You simply go to the banking cashier of your chosen bingo site and select the relevant payment method. You will then need to choose the amount you wish to deposit, followed by the 19 digit code. Your transaction will be processed instantly, meaning you can start playing right away. As already mentioned, our top 3 Ukash bingo sites charge no fees for depositing with this method, the amount you deposit will be credited in full to your player account.
Vouchers are available in amounts from £5 to £200, and there is a maximum purchase limit of 5 vouchers per day. All 3 of our recommended operators accept minimum deposits of £5 using this payment method, so they are suitable for all players, including those playing on a small budget. This payment method is widely used for making deposits and there are few operators who allow withdrawals through the same method. If you wish to cash out, you have the option of receiving a cheque, or a wire transfer to your bank.
Advantages and Disadvantages
One of the advantages of using this payment method is the added safety and security when making online purchases. There are sometimes concerns about fraud when entering your sensitive banking information to make payments online. This payment method eliminates the risk and the worry, as you never have to divulge your bank or credit card details. It also provides an alternative payment method for people who do not have a bank card, who could otherwise be unable to make payments online.
Using Ukash at Online Bingo Sites
Safe and secure transactions
Helps control spending
Provides privacy and anonymity
Instant, fee free deposits
Withdrawals not widely available
Another benefit of using this payment method is that by not having to enter your banking details, it protects your anonymity and privacy. You can keep any details of your online gaming separate from your bank statement and financial history. As you use cash to purchase a voucher, then use this voucher alone to deposit in the bingo cashier, your bank account or credit card is in no way linked to any spending you make on online bingo.
Whenever playing online bingo, it's important to set yourself limits, so that you can enjoy the fun of the game, without spending more than you should. A major plus for Ukash is that it helps to control spending. When you use a credit or debit card to fund your account, it is very easy and tempting to top up your account when you have spent up. Yet with this payment method, you have to physically go back to a shop to purchase another voucher in order to fund your account. Therefore, if you want to stick to a budget, this payment method really helps to avoid impulse buys.
There are a huge number of operators who accept this payment method. Sometimes choosing an alternative payment option to a card can limit your choice of sites to play on. Yet with Ukash, you have the choice of hundreds of operators. Maybe you'll see this as a disadvantage, we know that sometimes too much choice can make it difficult to decide. If that's the case, then check out our recommended bingo sites, which offer a great all round experience, in addition to accepting this payment method.
The one major downside to using this payment method at bingo sites is that withdrawals are not widely available. The majority of operators do not allow you to make a withdrawal with Ukash and it is only accepted for depositing. Therefore, in order to cash out, you will need to provide your bank details for any winnings to be paid back into your bank account. If you do not want to hand over your financial details to the bingo site, then opt for an operator who will return your winnings by cheque. 888 Ladies, Gala and Costa Bingo all offer withdrawals via cheque.
Is This Payment Method safe?

Absolutely! It's one of the safest methods of making payments online, and also one of the most secure ways of funding your bingo account. As we've already seen, using the prepaid vouchers to make payments eliminates the need to enter any personal financial information online, therefore eliminating any risk of fraud. The company is regulated and authorised by the Financial Conduct Authority (FCA), meaning they have to adhere to strict guidelines when it comes to protecting customers and their money.
In order to stay safe, your vouchers should be treated like real money. The company advise that you should only ever purchase your vouchers from an official issuing partner. If you're ever in any doubt where to find one, you can use the store locator on their website. Also, you should only ever make online payments to genuine partner sites and never divulge your voucher codes to others by email or on the phone. A list of authorised partner sites can be found on the official website. Of course, our 3 recommended bingo operators are genuine partner sites, so your money is protected when you make deposits at any of the bingo sites.
General Info about the Company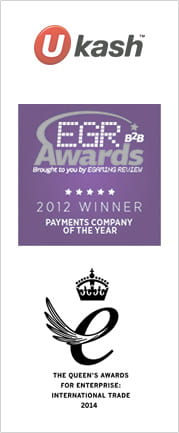 Ukash was developed to allow a safe a convenient alternative online payment method, making it ideal for people who do not have a debit or credit card, or do not want to use them to make online payments. Established in 2005, the company is operated by Smart Voucher Ltd, which is regulated by the UK Financial Conduct Authority (FCA) as an Electronic Money Institution (EMI). The company's head office is based in London. The payment method is available in 55 countries and can be purchased at over 42000 retail outlets throughout the world.
In addition to the pre-paid vouchers, the company also provides a prepaid MasterCard. In order to obtain the card, no credit check is required and you do not need to have a bank account. It therefore caters well to people who may have a poor credit history and otherwise would have difficulty obtaining a MasterCard. You load funds onto the card, either with vouchers or using cash, debit card or bank transfer. As it is a pre-paid MasterCard, you can only ever spend what credit you have loaded on the card. The advantage of the MasterCard is that it can be used at over 34 million locations worldwide, like restaurants, shops, cinemas, and anywhere that MasterCard is accepted.
The company also offer the Ukash Travel Money Prepaid MasterCard, available in US Dollars or Euros. You load the card and then you can use it to pay for goods and services whilst abroad. It can be used in shops, restaurants, etc, just like a regular MasterCard. There are no fees and customers get competitive currency exchange rates.
The company has won many awards for their financial services. They won the coveted Queen's Award for Enterprise for 4 consecutive years, recognising their outstanding contribution to international trade. They were also the winner of Payments Company of the Year at the 2012 EGR B2B awards, underlining their popularity as a payment method for online casino, bingo and poker sites.
How to Avoid Scams
Tips for Avoiding Ukash Scams
Never disclose voucher codes over the phone or by email
Only make payments on genuine partner websites
Protect vouchers with the same level of care as cash
Do not use to pay on auction websites, such as Gumtree
Check the official website for details of any current scams
Have you heard of the Ukash virus? It is a type of ransomware or malware, which infects and locks your computer. There will often be a message from a seemingly official authority, such as the national or local police, even the FBI, advising that you have broken the law, usually indicating a breach in copyright law due to illegal downloads. The name Ukash Virus has been associated with this virus, as payment is usually demanded via this method to unblock the affected PC. The virus is a scam. Should you ever receive such a message on your computer, never hand over payment. You will need help to have the virus removed from your PC, and you should report the attack to Action Fraud. You should be aware that any police force or official legal authority will never demand payment in such a way. Also be wary of opening attachments in emails from unknown senders, these can contain the type of virus that will infect your computer.
The company take fraud prevention very seriously, and offer lots of advice on their website to help protect their customers from scams. This includes details of any current scams they are aware of, so it is a good idea to check the site regularly for any updates. The best advice to avoid becoming a victim of a scam is to protect your voucher codes. They should only ever be used to pay for goods and services at official partner website, and never used to make payments via email or phone. Never use your vouchers to make payments on Gumtree, eBay, or any other person to person auction site. They are not officially partner sites and you could easily loose your money to fraudsters. Likewise, be very wary of anyone asking for a fee to release a loan, to perform a pre-employment check, or to send lottery winnings. Again, if you are ever asked to supply your voucher codes by phone or email, it is highly likely to be a scam, and you stand to loose your money. Stick to genuine partner websites, and you can be sure your money will be safe.
Alternative Payment Methods

As we've seen in this article, Ukash provides safe and secure transactions, and is a great payment method for making deposits to your online bingo account. If you do not have a bank card, or do not want to use it to play bingo, then this is a smart choice. There are also other alternative payment options, for those players who want to avoid disclosing their personal financial information when making payments online. Are you familiar with Paysafecard? It is a prepaid payment service, which operates in a very similar way. You purchase a voucher from a retail outlet, which contains a 16 digit PIN that can be used to pay online. Our top recommended bingo sites all accept this alternative payment method.

There are also various e-wallets that offer safe and protected transactions, such as Skrill and NETeller. Probably most well known amongst these e-wallets is PayPal. This payment method offers extra protection and privacy, as you do not have to enter your bank or card details to make a payment. If you want to know more about playing bingo with PayPal, along with our recommendations of bingo sites that accept PayPal, then check out our dedicated article here.